Cboe: When VIX and the S&P 500 Rise Together
By: Russell Rhoads, Director, Product Enhancement, Global Derivatives.
Even casual VIX observers know that VIX is supposed to drop when the S&P 500 moves higher.  Especially when the S&P 500 is making all-time highs.  However, for the first month of 2018, VIX has risen in line with the S&P 500 which has many market participants asking why.  The chart below shows the daily closing prices for the S&P 500 and VIX for January.  The common uptrend for both is fairly obvious.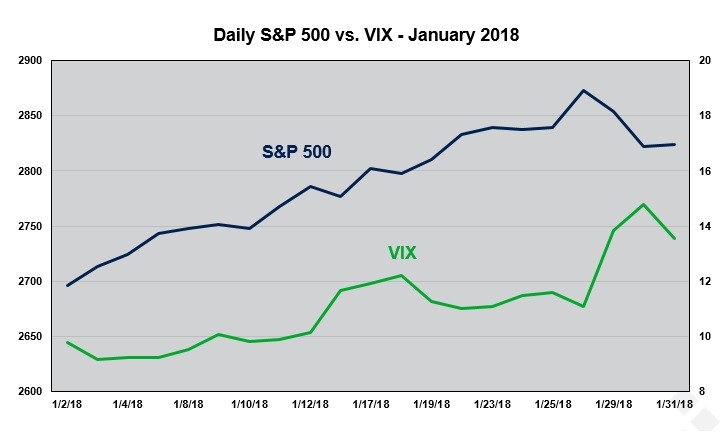 Although VIX has traditionally lost value when the S&P 500 moves higher, about 20% of trading days when the S&P 500 moves up VIX moves higher as well.  When VIX is at low levels (like now) the chances of VIX moving up when the S&P 500 moves higher increases to about 25%.  So this sort of behavior is completely outside of historical norms. 

What we do need to remember is VIX is a forward looking measure, and when option traders believe option premiums represent a good value, or are inexpensive, they will consider buying options.  Traders who believe that 2018 is not going be the repeat of the low volatility environment we experienced in 2017 may be buying SPX puts and calls based on a belief that the options represent an inexpensive method of getting long or short exposure to the US stock market.  Time will tell if the higher option premiums is justified by a more volatile 2018 than 2017.
 
RISK DISCLAIMER: Trading in futures products entails significant risks of loss which must be understood prior to trading and may not be appropriate for all investors. Past performance of actual trades or strategies cited herein is not necessarily indicative of future performance. The information contained herein is provided to you for information only and believed to be drawn from reliable sources but cannot be guaranteed; Phillip Capital Inc. assumes no responsibility for errors or omissions. The views and opinions expressed in this letter are those of the author and do not necessarily reflect the views of Phillip Capital Inc. or its staff.