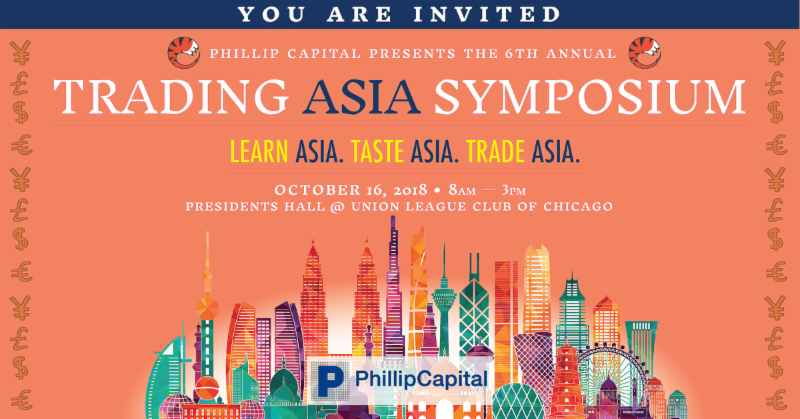 Join us at Phillip Capital's 6th Annual Trading Asia Symposium!
Phillip Capital's Trading Asia Symposium is the only annual event of its kind in the US that focuses on Trading Asia for the financial derivatives community.
Whether you are a trader looking to trade into Asia or an industry veteran, join your industry peers where you learn from the major Asian Exchanges about the latest developments in their markets and trading opportunities. Attend a workshop that dives deeper into the subjects of your interest. Enjoy authentic Asian food while networking.Each year we strive to make it bigger and better so this year our goal is for you to experience Asia with all your five senses. While you use your ears and eyes to learn from the panels and the interactive workshops; you will also use your eyes and tongue to feast on the authentic spread of food.
But what better way to further evoke the sense of smell then with the aroma of coffee? We have invited a professional coffee expert from Asia to host a coffee cupping event where you will taste some of the finest and most exclusive batches of coffee including Coffee Luwak.

Link: https://events.r20.constantcontact.com/register/eventReg?oeidk=a07efo4ygu2a953d243&oseq=&c=&ch=
Conference Schedule
8:00am: Registration opens, amazing door gift, including 50g of exclusive Coffee Luwak to 1st 250 attendees
8:30am - 9:30am: Breakfast & networking
9:30am - 10:00am: Opening speech by Joseph Banyai and Lynette Lim
10:00am - 11:30am: Panel discussion, learn from the Asian Exchanges about the latest developments and trading opportunities
11:30am - 1:30pm: Lunch (Taste of Asia) & exhibitions, enjoy authentic Asian food from different parts of Asia while networking
12:20pm - 1:20pm: Coffee cupping (limited space), taste the finest and most exclusive batches of coffee - Kopi Luwak
1:30pm - 2:30pm:  Afternoon workshops
2:30pm - 3:00pm: Lucky draw 
Workshops Details
Why Singapore can be your base to trade Asia
Singapore is more than just a place where chewing gum is banned; where the historic summit between Kim Jong Un and President Donald Trump was held; and where the movie "Crazy Rich Asians" was based. Singapore can also be your base to trade Asia. Whether you are looking to set up a presence in Singapore physically or trade from US, get your answers here. Learn about the different tax and business incentives available as well as ways to access the markets and opportunities.
Trading in China for foreigners - What is the deal? Moderated by Lynette Lim, Phillip Capital Co-CEO
There is sort of a love-hate relationship between China and the US within the trading community. While we all know the importance of China as a world power, how do we get access into trading in China without taking too much risks or making rookie mistakes? There are no easy answers.
In this frank discussion, join Lynette Lim, Co-CEO, Phillip Capital, as she asks business experts in China markets about the nuts and bolts of trading in China and what it entails. We will also attempt to understand how the futures market has evolved in China and what the current opportunities for traders and money managers are.
It's all in your mind – Creating performance mindsets by Russ Rausch
As humans, we prefer things are familiar, and hence a new challenge like trading a new market can be daunting. How then do we learn to train our minds to embrace change and increase our focus, enjoyment and resilience? Russ Raush, a 16-year trading industry veteran (currently dedicated to training sports teams like the Altana Falcons and the Seattle Mariners and other traders) will lead a discussion on training your brain to have a performance mindset.
To take part in this session, we would appreciate you providing your questions in advance, so we can prepare as much as possible and ensure we cover as many of your questions as possible. Speakers Information