SGX Monthly Newsletter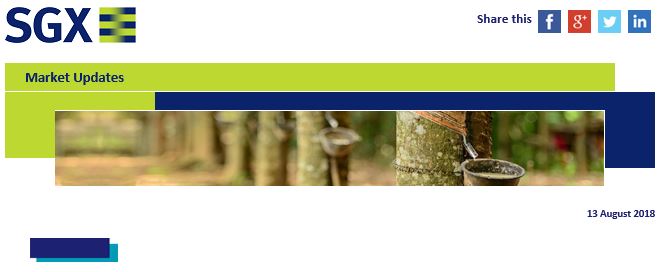 SGX SICOM Rubber Report - July 2018
Benchmarks SICOM TSR 20 and SICOM RSS 3 averaged US$1.318/kg and US$1.459/kg in July, both down 4.9% and 5.5% from a month ago respectively.

The ongoing trade spat between US and China continued to cloud demand outlook for the commodities sector, and rubber was not spared. The growth of US automobile sales in July weakened by a drop of 11.8% m-o-m. Supply of natural rubber remained relatively high with stocks from Qingdao and SHFE warehouses adding 31.9k MT in July. Meanwhile, floods in northern Thailand and widespread rain in Kerala have curbed supply and provided price support.

Combined rubber futures on SICOM traded 154,413 contracts (772,065MT) in July, decreasing 16.8% m-o-m and increasing 15.3% y-o-y. Daily volume averaged 7,019 lots (35,095MT). Combined open interest in SGX SICOM rubber futures increased to 92,622 contracts (463,110MT) at month end. SICOM OTC rubber forwards continued to gain traction, with 370 contracts (7,400MT) cleared and open interest climbing to 420 contracts (8,400MT) in July.

SICOM rubber futures continued to lead in the international market, with a market share reaching 54.5% for volumes and 72.3% for open interest.
FULL RUBBER MARKET REPORT AVAILABLE <here>

For further details on SGX SICOM Rubber products, please contact our team or alternatively visit our website: http://www.sgx.com/rubber

Jessie Ng at jessie.ng@sgx.com or (65) 6236 8077
Kenneth Ng at kenneth.ng@sgx.com or (65) 6236 8388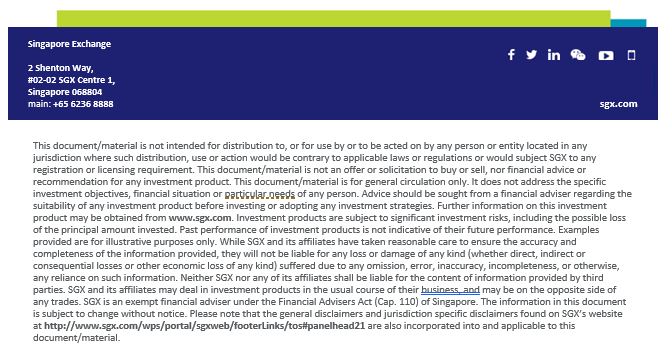 Unsubscribe | Manage subscription preferences | Sign up for mailing list
Copyright © SGX. All rights reserved