China's Moment has arrived: MSCI's A-Share Inclusion and why it matters

Market Update
China's Moment has arrived: MSCI's A-Share Inclusion and why it matters
MSCI unveils the final list of 226 China Stocks to be added to its benchmark equity Indexes on 1 June 2018. Initial inclusion estimated to channel US$17 billion of passive inflows, and US$40 billion upon taking into consideration actively managed funds.
47 out of the 50 constituent stocks in the FTSE China A50 Index, representing almost 98% weight in the Index, are involved in the MSCI Inclusion. As investors gear up ahead of the MSCI Inclusion, open interest in the SGX FTSE China A50 Index futures grew 39% month on month to more than 800K contracts, representing nearly US$11b in notional open interest as of 25 May.

SGX FTSE China A50 futures and the SGX MSCI China Free Net Total Return USD Index futures offer investors tools to tap on onshore and offshore Chinese equity opportunities on a single platform, while benefiting from margin efficiencies.
Onshore Chinese equity's grand entrance into global investment benchmark
On 1 June 2018, MSCI will add 226 China A shares to its benchmark indexes, including the MSCI Emerging Markets and MSCI China Indexes. The addition will be done in two phases, at a 2.5% partial inclusion factor in June, and at 5% inclusion factor in the next rebalancing cycle in September.

Although China A-shares' weights still represent a miniscule proportion of the Index relative to the actual size of China's domestic equity market, this symbolic move by MSCI represents a harbinger of vast investment opportunities to come. It signals to institutions that China's regulatory landscape, liquidity environment and accounting principles have been deemed to be satisfactory by a global benchmark index such as MSCI.

It remains uncertain how long it will take China for full inclusion. It took South Korea six years and Taiwan nine years to win full inclusion in the MSCI indices. China has also been laying the groundwork for greater global inclusion, including a recent increase in daily trading limits for investing through the links. Foreigners' purchases of mainland shares via the stock links surged to a record last month, accounting for 38.65 billion yuan (US$6.1 billion).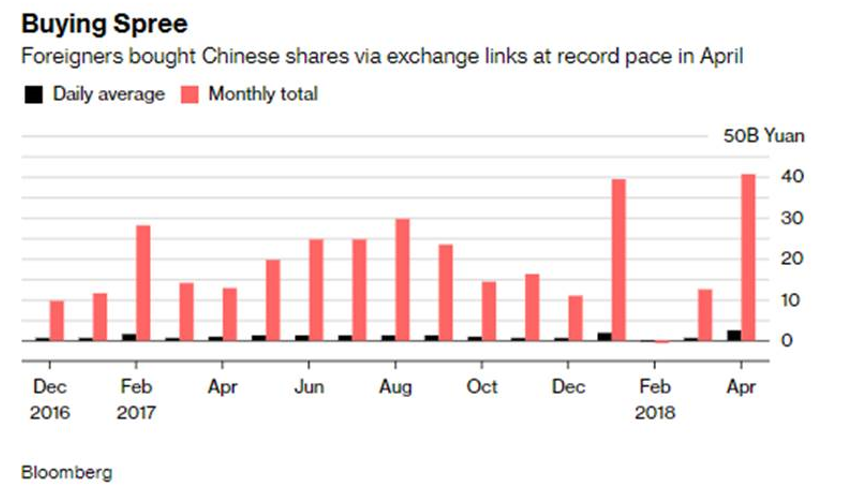 More than just a storm in a teacup: From US$40 billion inflows to US$400 billion
MSCI has estimated that the initial inclusion will channel around US$17 billion of passive inflows, while JPMorgan Chase predicts the inflow will probably reach as much as US$40 billion, when taking into consideration the investments by actively managed funds. Foreign inflows are estimated to reach up to US$400 billion in the next 10 years, according to CSOP Asset Management, the world's biggest RQFII asset manager.

In the run-up to the inclusion, overseas asset managers had already started rolling up their sleeves to build positions in the A-share market. According to data from the Chinese central bank, overseas asset managers held 1.2 trillion yuan (US$188 billion) worth of A-shares as of end March. This represents almost 4 times the value of their holdings three years ago. The proportion of foreign ownership in the mainland stock market has risen to 2.5 percent, up from 1.6 percent three years ago.

Sovereign wealth funds from Southeast Asia and the Middle East have been tipped to become "first movers" to enter the A-share market, according to a recent survey by CSOP of global asset managers, private banks and other institutional investors.
IT and Financial sectors well-positioned to outperform
With the A-share inclusion, the MSCI China Free IndexSM will holistically encapsulate China's suite of equities, representing an all China envelope. Investors are presented with the opportunity to gain a unique exposure to the Chinese economy, with the index comprising new economy stocks that will benefit from China's economic transformation. 'New China' Sectors such as Financials and Information Technology represent almost 80% of the index weight post inclusion.

The Chinese tech trinity of Baidu, Alibaba and Tencent - known as "BAT", are all key constituents of the index, taking up more than 30% of the index weight. Aside from achieving enormous growth of 28%, 61% and 45% over the past year as of 25 May 2018, the tech trio are touted to be at the forefront of technology disruption, investing across leading-edge start-ups in the hottest tech sectors, such as biotech, virtual reality, fintech, security and artificial intelligence.

Aside from the MSCI China A-Share inclusion being heavily weighted toward financials, a flurry of recent developments introduced to further open up China's financial sector primes China's financial sector for growth.

According to a report released by consulting firm EY, 31 listed banks in China (including 26 A-share listed banks and five H-share listed banks) have disclosed their results for the first quarter of 2018, with growth in total net profit increasing 5.95 percent compared to the same period a year ago.

With China committed to removing hurdles in the financial markets for foreign companies and the relaxation of other financial sector regulations, this is anticipated to boost the international competitiveness of China's financial institutions. As such, analysts from global institutional banks and China's top brokerages alike remain positive on China's financial sector.

Almost 98% weight in the FTSE China A50 Index are involved in the MSCI Inclusion

47 out of the 50 constituent stocks in the FTSE China A50 Index, accounting for almost 98% weight in the Index, are involved in the MSCI Inclusion. As such, the FTSE China A50 Index is closely correlated with the A-shares involved in the inclusion (which are represented by the MSCI China A Inclusion IndexSM), with correlation greater than 90%.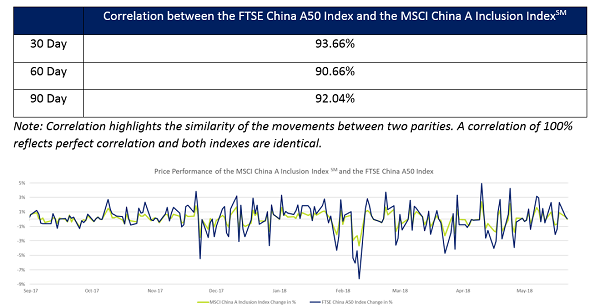 As global investors gear up to take positions ahead of MSCI's A-share inclusion in June, open interest in the SGX FTSE China A50 Index futures grew 39% month on month to more than 800K contracts as of 25 May (notional value of almost US$11b).

Tapping on Chinese equity opportunities via SGX's China Suite

As the only international exchange offering investors round-the-clock trading access to Chinese assets, SGX enables investors to trade corresponding equities, currencies and commodities all on a single platform. The presence of margin offsets allows investors to achieve greater capital efficiency.

The SGX FTSE China A50, SGX MSCI China Free Net Total Return USD equity index futures and the SGX USD/CNH currency Index futures offer investors the tools to tap on onshore and offshore Chinese opportunities on a single platform. The SGX FTSE China A50 futures is the only A-share risk management tool available offshore, allowing investors to effectively hedge and diversify their portfolio; while the SGX MSCI China Free Net Total Return Index futures presents an investment opportunity in an all China envelope.

SGX FTSE China A50 futures trades at a competitive average bid-offer spread of 2.0 bps during the regular trading (T) session and 2.6 bps during the after hour (T+1) session. Despite being a relatively new contract, the SGX MSCI China Free Net Total Return Index futures trades at an average bid-offer spread of 19.1 bps during Hong Kong trading Hours, with the presence of Market Makers to ensure availability of screen prices throughout the T and T+1 sessions.

For more information on the products, please visit www.sgx.com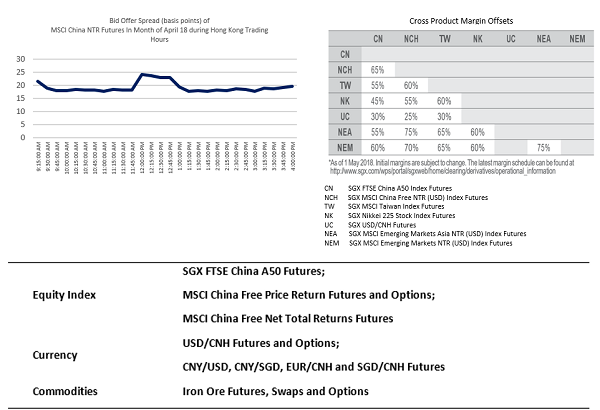 This document/material is not intended for distribution to, or for use by or to be acted on by any person or entity located in any jurisdiction where such distribution, use or action would be contrary to applicable laws or regulations or would subject Singapore Exchange Limited ("SGX") and/or its affiliates (collectively with SGX, the "SGX Group Companies") to any registration or licensing requirement. This document/material is not an offer or solicitation to buy or sell, nor financial advice or recommendation for any investment product. This document/material has been published for general circulation only. It does not address the specific investment objectives, financial situation or particular needs of any person. Advice should be sought from a financial adviser regarding the suitability of any investment product before investing or adopting any investment strategies. Use of and/or reliance on this document/material is entirely at the reader's own risk. Investment products are subject to significant investment risks, including the possible loss of the principal amount invested. Past performance of investment products is not indicative of their future performance. Any forecast, prediction or projection in this document/material is not necessarily indicative of the future or likely performance of the product. Examples (if any) provided are for illustrative purposes only. While each of the SGX Group Companies have taken reasonable care to ensure the accuracy and completeness of the information provided, each of the SGX Group Companies disclaims any and all guarantees, representations and warranties, expressed or implied, in relation to this document/material and shall not be responsible or liable (whether under contract, tort (including negligence) or otherwise) for any loss or damage of any kind (whether direct, indirect or consequential losses or other economic loss of any kind, including without limitation loss of profit, loss of reputation and loss of opportunity) suffered or incurred by any person due to any omission, error, inaccuracy, incompleteness, or otherwise, any reliance on such information, or arising from and/or in connection with this document/material. The information in this document/material may have been obtained via third party sources and which have not been independently verified by any SGX Group Company. No SGX Group Company endorses or shall be liable for the content of information provided by third parties (if any). The SGX Group Companies may deal in investment products in the usual course of their business, and may be on the opposite side of any trades. Each of SGX, Singapore Exchange Securities Trading Limited and Singapore Exchange Bond Trading Pte. Ltd. is an exempt financial adviser under the Financial Advisers Act (Cap. 110) of Singapore. The information in this document/material is subject to change without notice. This document/material shall not be reproduced, republished, uploaded, linked, posted, transmitted, adapted, copied, translated, modified, edited or otherwise displayed or distributed in any manner without SGX's prior written consent. Please note that the general disclaimers and jurisdiction specific disclaimers found on SGX's website at http://www.sgx.com/wps/portal/sgxweb/footerLinks/tos#panelhead21 are also incorporated into and applicable to this document/material.

Futures or options contract on any MSCI Index are not sponsored, guaranteed, endorsed, sold or promoted by MSCI, any affiliate of MSCI or any other party involved in, or related to, making or compiling any indexes (but expressly including the exchange) MSCI bears no liability of any kind with respect to such contracts.

All rights in the FTSE China A50 Index (the "Index") vest in FTSE International Limited ("FTSE"). "FTSE®" is a trademark of the London Stock Exchange Group companies and is used by FTSE under licence.

The SGX FTSE China A50 Index Futures (the "Product") has been developed solely by Singapore Exchange Derivatives Trading Limited. The Index is calculated by FTSE or its agent. FTSE and its licensors are not connected to and do not sponsor, advise, recommend, endorse or promote the Product and do not accept any liability whatsoever to any person arising out of (a) the use of, reliance on or any error in the Index or (b) investment in or operation of the Product. FTSE makes no claim, prediction, warranty or representation either as to the results to be obtained from the Product or the suitability of the Index for the purpose to which it is being put by Singapore Exchange Derivatives Trading Limited
Unsubscribe | Manage subscription preferences
This is an auto-generated message. Please do not reply to this email.
Copyright © SGX. All rights reserved.