Letter from the Co-CEO: What Does the Future Look Like? by Lynette Lim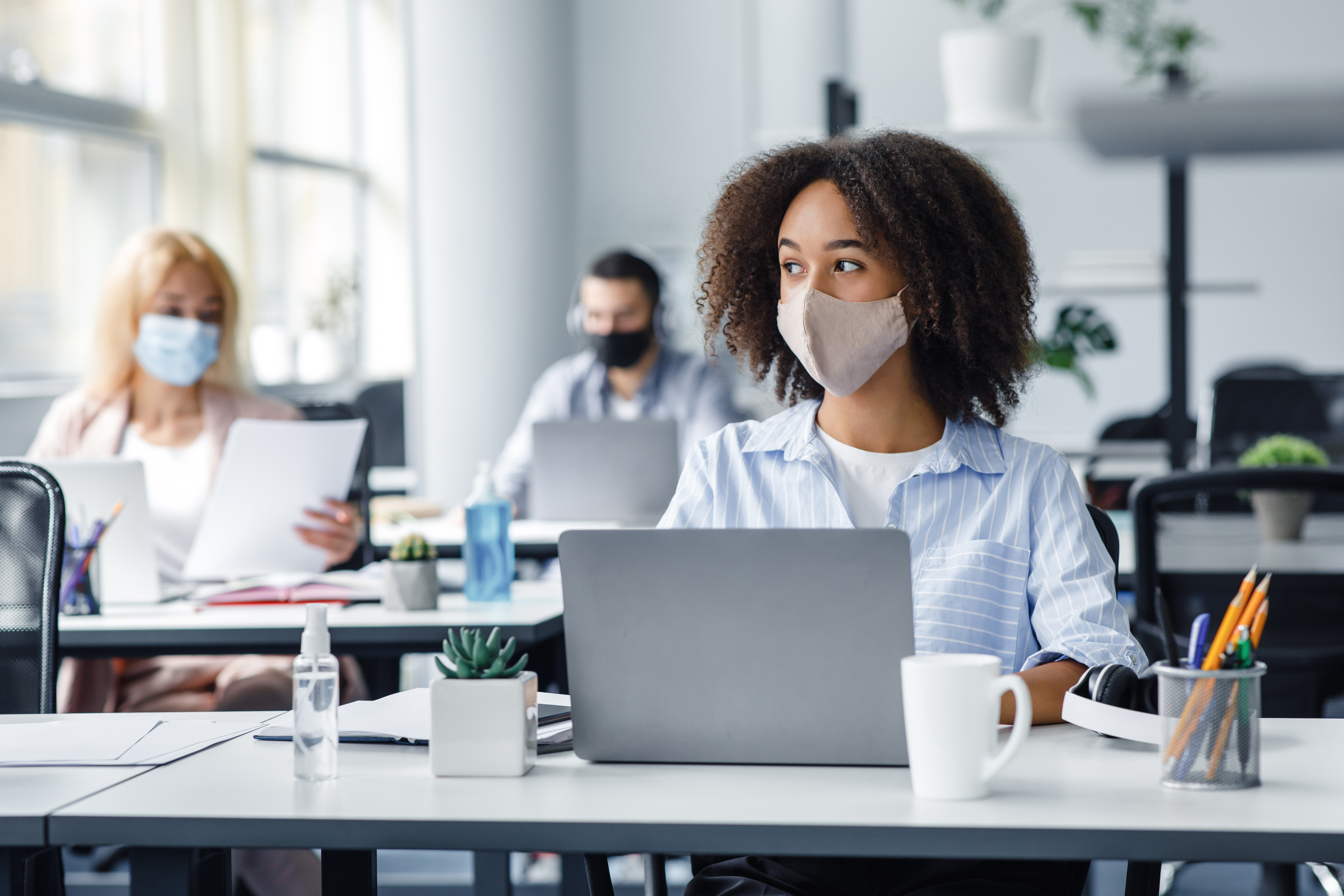 "We think too much and feel too little. More than machinery, we need humanity; more than cleverness, we need kindness and gentleness. Without these qualities, life will be violent and all will be lost."

            - Charlie Chaplin, The Great Dictator
Dear friends,
As election day draws closer in America and collective tension rises, those of us who work in the financial brokerage industry have to anticipate how the markets will behave in order to manage the risk of our customers who trade.  It is always prudent to anticipate the worst, the largest possible move in the market, so that we are not caught with our pants down, figuratively speaking.  If we expect large moves in the market, then we would take preventive measures such as asking for additional deposits from our customers and/or imposing some limits on their trading, as well as standing by for extra credit from banks.  
While it is exciting to see who will win this election (actually every election is exciting), my own personal view is that there won't be much volatility in the markets, unlike the last election where Trump caught the world by surprise.  As far as the financial markets are concerned, in the short term I don't think the outcome will affect much.  In contrast, the short-term and long-term effects of COVID-19 will affect both the financial markets and our lives in deeper and much more invasive ways.
Lockdowns in America due to COVID-19 started in March of this year, and it feels so strange that it is hard to remember what life was like pre-COVID.  Watching old movies and seeing a crowd scene we instinctively feel uneasy and think, "Six feet of social distancing, please!"
Last week I took a domestic flight for the first time since the first COVID lockdown happened in Chicago.  The airport was surprisingly crowded, and the planes were full.  The only detectable differences from pre-COVID days were that people were donning masks, no one was bumping into you, and you couldn't really order any food on the plane.  Today I also took my first swim at the gym since COVID.  I felt like I was in some sort of apocalypse movie where I was the only one in the swimming pool and showers.  The good thing is that it was spotless.
Yes, wearing masks, social distancing, and working from home (WFH - a new acronym) is the new normal for us now.  Even when a vaccine is created, I don't think life will ever be the same.  We have gotten used to wearing masks everywhere and conducting all our meetings online.  Be it a work meeting, church service, school class, or even a yoga class, it is conducted online.  Going to a concert full of sweaty people does seem like a thing from the past, and a luxury.  
The future of work and the workplace has also been a topic of great debate, with various valid points of view.  Netflix CEO Reed Hastings has come out strongly against working remotely,  calling it a "pure negative."  For me personally, I have found it much harder to get things done working remotely, especially on projects where collaboration and knowledge transfer is vital to success.  Other organizations are expecting most employees to work remotely and looking at the benefits of the reduction in commercial real estate costs.
At our office here in Chicago, we have reconfigured the space for six-foot distancing and spreading everyone out such that all are welcome to return back to the office.  However, as The Economist notes, "American firms forecast that the proportion of days worked at home will jump from 5% before covid-19 to about 20%, a number that chimes with the average desire of workers."  In our case here, the number of people coming to our office is still lower than the number of people who choose to stay at home.  The recent peak numbers of COVID-19 could also contribute to this decision.  
So I think the "new" norm of the workplace will be a hybrid.  Zoom, unfortunately, is here to stay, and meetings will be conducted with people present and people online.  It is still not ideal, but it is the best we can do now given the situation.
As they say here, we just roll with the punches.
The winners and losers
It is also interesting to observe how people and organizations behave during times of uncertainty and hardship.  It is during these times when you can separate the sheep from the goats, the wheat from the chaff.  Which companies emerge and which collapse depends so much on what their industry is, but also how much they are willing and have the guts to adapt.  The winners and losers are not as obvious as one might think.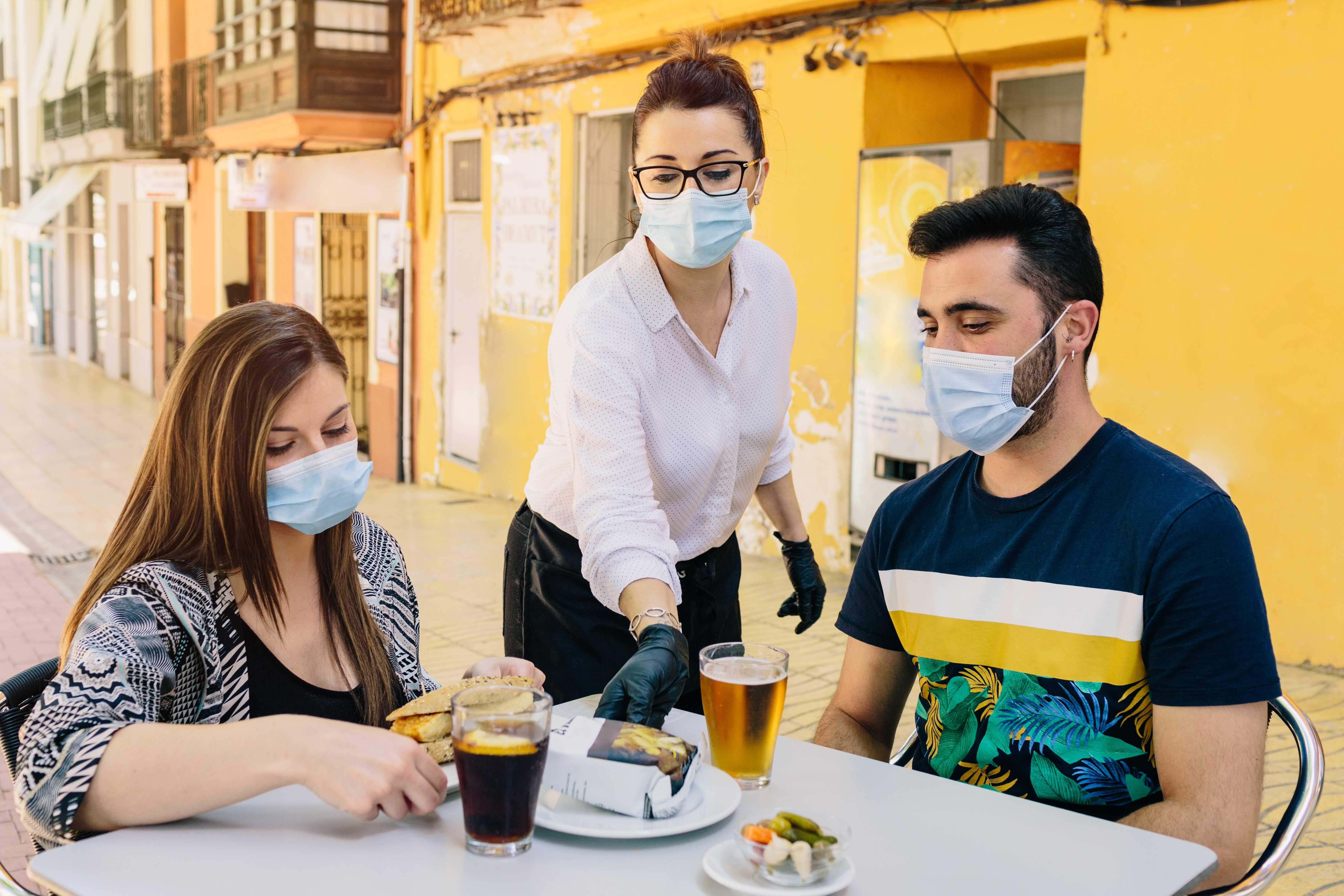 Take the restaurant business, for example.  At first glance, one would think they would be the first in line to collapse.  We saw evidence of this firsthand, when so many restaurants permanently closed after the first announcement of COVID-19.  They just decided their business was not worth fighting for.  It was as if they had already decided in their minds that they were going to fail no matter what.  Then the second wave of closures occurred during the looting in Chicago when many restaurants' windows were smashed and their properties looted and destroyed.  They waved their white flags.
However, there is a lot of fighting spirit left for many restaurant owners, and moments of creativity and spark.  We see restaurants converting their walkways for outdoor space.  We see restaurants creating whole new menus for takeout.  Some restaurants are in fact also thriving in these times.  We have a friend whose family-owned Italian restaurant downtown had the best summer months in their history due to their ability to make use of the open space and reduced competition, and now they are planning to install igloos for the winter period.  In Chinatown this week for my son's haircut, I saw the boss of Joy Yee restaurant painstakingly shaping the plants by the sidewalk. Somehow he reminded me of Mr. Miyagi in The Karate Kid, trimming the bonsai.  I heard him tell another passerby that his business has dropped 40%, but hey, they are still here.  I am willing to bet that in ten years Joy Yee will still be around.
"Just keep swimming."

            -Dory, Finding Nemo
There is a sort of atrophy that happens when we don't move.  The saying "use it or lose it" is a perfect illustration.  Those of us who have been physically fit know this parable all too well!  (Oh, the number of times male colleagues in Singapore have reminisced about their days in the army, when they were fit!)  It is perfectly normal in these situations to be paralyzed by fear and do nothing.  COVID-19 is also a perfect excuse to give up, or deal with life with minimum effort.  We hide in our homes, living life as if it is just a routine, blind with blinkers on.  We drift aimlessly into addictive escapes like TV or wine.  Pick your vices.  It is so easy to do this. But you need to fight the urge to take the easy way.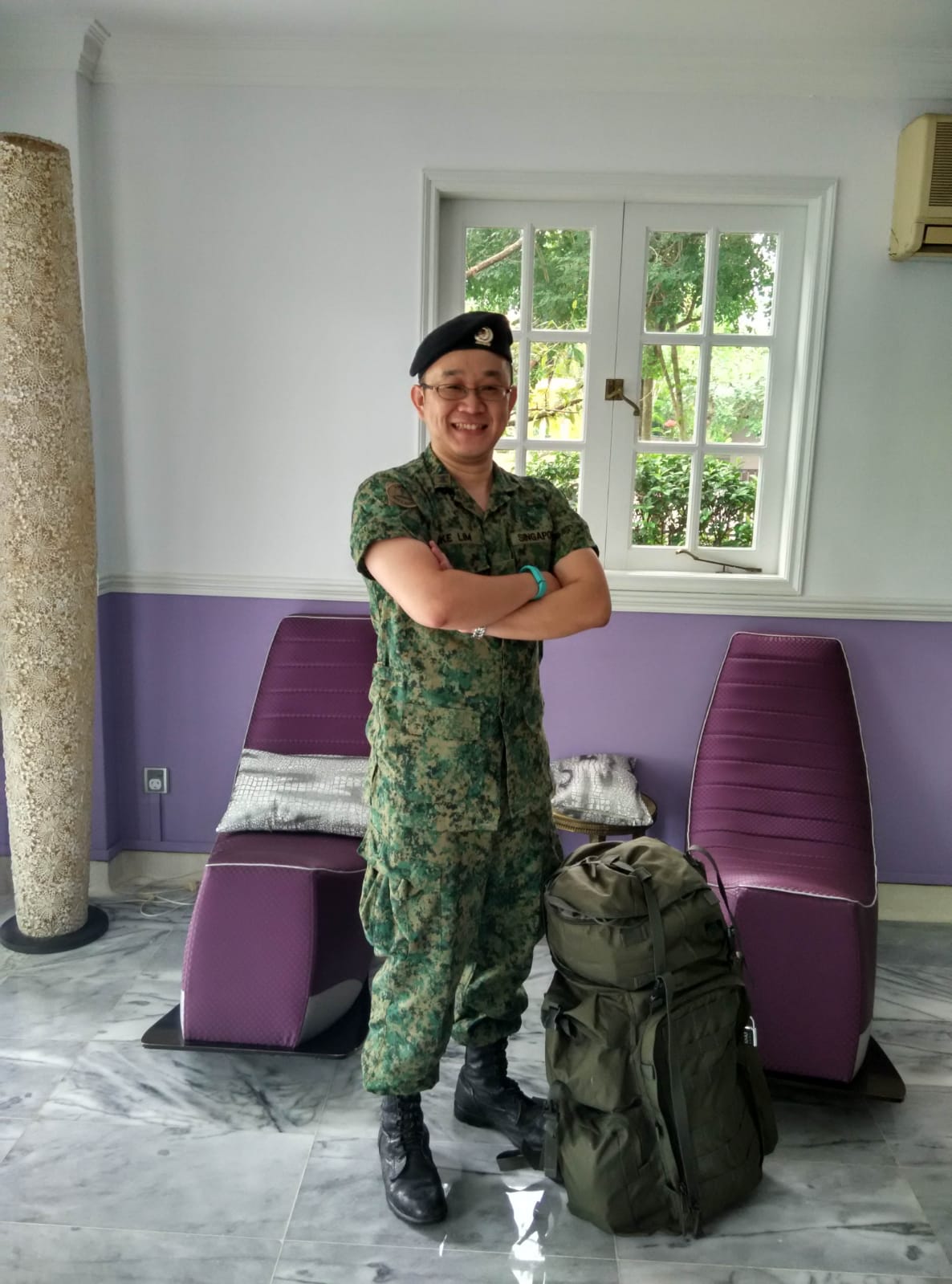 Lynette's brother in uniform.
What I am calling on you to do is not to say you have no fear, but rather to face your fear and then do it anyway.  Can you go the extra mile in your work?  Can you reach out to a friend?  Can you push the projects that you want to complete while considering the safety measures that you need to put in place?  Can you use your creativity and out-of-the-box thinking now that anything is possible?  We are all still here.
Who knows?  Maybe you will be a winner, too.  It's still your choice.
RISK DISCLAIMER: Trading in futures products entails significant risks of loss which must be understood prior to trading and may not be appropriate for all investors. Past performance of actual trades or strategies cited herein is not necessarily indicative of future performance. The information contained herein is provided to you for information only and believed to be drawn from reliable sources but cannot be guaranteed; Phillip Capital Inc. assumes no responsibility for errors or omissions. The views and opinions expressed in this letter are those of the author and do not reflect the views of Phillip Capital Inc. or its staff.