Journey to the East
By Lynette Lim
Dear Friends,
I just came back from a whirlwind trip from Chicago to China with my colleague last week.  Actually, it felt more like a journey rather than a trip, as we took a 16 hour flight to Hong Kong, and the next day we rode the MTR (Mass Transit Railway) to the border, then the local underground in China, and finally the high speed rail to Xiamen.  With my three lovely companions (one from Hong Kong, one from Japan, and one from the US no less), I felt just like the "Monkey King" making our journey, except this time to the East rather than to the West.  We too had to fight whatever obstacles we encountered on the way.  Just imagine fighting through hordes of crowds coming from different directions while in high heels and with luggage.  Next time we will take the plane please!
Still it was very nice to see the changing landscape of South China on the train.  While we were sitting rather comfortably in the first class cabin of the modern train (It cost about US $60 dollars for a round trip ticket to Xiamen), we could see a backdrop of mountains amid the rice plantations and the sea that was almost like a Chinese painting, and then it was quickly overpowered by new construction and high-rise buildings that are very cramped together.  There is no denying the progress and rapid development of China.  Urban planning is still quite schizophrenic as you see abandoned buildings, buildings half constructed, and then concentrations of urbanization in certain pockets.  You can still see the resemblance of the social bloc with the gray and drab buildings, a reminder of what China was and still is in certain ways.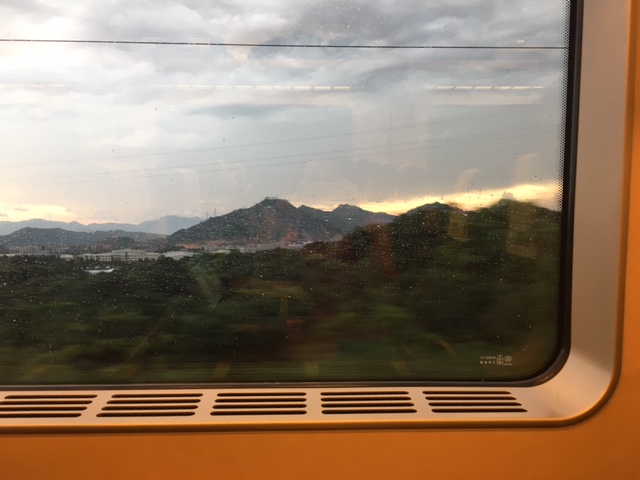 I remain very impressed with Xiamen.  Thirty years ago, I was with my grandparents and brother to visit my grandfather's village one hour from there.  My grandfather, just like many others, had come to Singapore or Malaysia in the early 40s by boat to have a better life.  (Sound familiar?)  To him and many from that generation, China was still their home.  My late grandfather had donated money to start a scholarship for a school, and we were there to present the scholarship to the student.  The school closed for two days and had their students clean the school in preparation for my grandfather's visit.
Xiamen then was a sleepy fishing village with a smattering of factories.  There were no paved roads, only dirt ones, and fresh water and electricity were for the privileged few.  People lived in houses with dirt floors and bicycles were in every corner.  What I remember most was the sound of people spitting.  That too is gone.
Today, the streets in Xiamen are paved and clean.  There are still bicycles, but they are only available in yellow and red, and the bikes can now be rented using your cell phone.  There are three separate lanes on the road for bikes, cars and buses.  They have a very long beach front covered with trees that looks like Miami Beach.  Gone are the factories and instead they are replaced with ultra modern multi-story buildings and gated housing communities.  My colleague said he had never stayed in a grander hotel than the one in Xiamen.  The hospitality was eye opening as we were picked up by our clients in a Porsche, Rolls-Royce and a Mercedes-Maybach; and we were treated to a ten course meal with puffs of smoke from the dry ice floating up from the plates.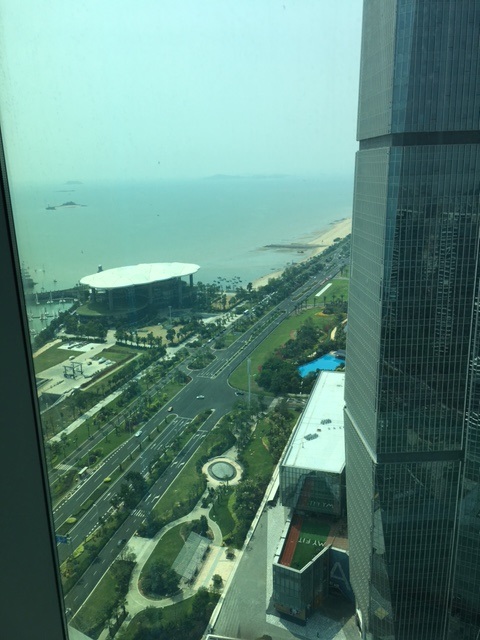 While you marvel at the rapid rising wealth of China and its citizens, you are also reminded very quickly again of the fact that China, in spite of all its opulent wealth, is still a communist state where information is censored.  At the border, I was stopped at customs for The Economist magazines that I brought with me.  Immediately after crossing the Chinese border, I could no longer use Facebook or WhatsApp.  They are blocked by the "China Wall," the Chinese government's ever powerful firewall.  A client we visited quietly expressed his frustration at how his trading was also blocked.  (Thankfully he did not trade that particular instrument through us.)
 
I appreciate the nice parallel between the Great Wall of China and the Great Firewall of China. The Great Wall of China was built by the first emperor of China in 220 BC to protect the people against invaders.  And today the Great Firewall of China –a series of legislative actions and technologies to regulate internet traffic–is also to protect people against invaders, but not invaders of swords and spears, but invaders of one's mind.
 
I can understand the rather ambitious intention of the Chinese government to want to protect its people and thus taking on a somewhat paternalistic approach, and I admire their effort in what seems to an outsider like an extremely uphill battle to conquer.  I think about how in the US that while we can access whatever information we want to and experience free speech, we are bombarded by social media and the media with many view points, and that it is hard not to be influenced by social pressure and remain truly objective.
I often get asked by people here in America this question: "When will China open up so I can trade their markets?"  "Only when they are ready."  I reply.  My answer may seem flippant but  it's true.  China has so much growth in their own domestic markets that they are not ready to open their gates to foreigners quite yet.  But they will open in steps starting one contract at a time, one market at a time.  And when they are ready to open the gates, let's hope you and I are ready.
After the initial look of disappointment on their faces, I will add with a twinkle in my eye: "But you can still trade the Chinese markets without being there.  You can trade the SGX:A50 Index and the HKEx CES 120."  So if you are looking to add some China exposure in your portfolio, this is a good starting point.
Later this month we are hosting our 5th annual Trading Asia Symposium where Asian exchanges participate and share their latest updates.  If you are interested in trading Asian markets and in China, be sure to join us.  Please email mbeyer@phillipcapital.com if you want an invitation.  Seats are limited.
RISK DISCLAIMER: Trading in futures products entails significant risks of loss which must be understood prior to trading and may not be appropriate for all investors. Past performance of actual trades or strategies cited herein is not necessarily indicative of future performance. The information contained herein is provided to you for information only and believed to be drawn from reliable sources but cannot be guaranteed; Phillip Capital Inc. assumes no responsibility for errors or omissions. The views and opinions expressed in this letter are those of the author and do not reflect the views of Phillip Capital Inc. or its staff.