CME Group: Capture Small Cap Market Performance with E-mini Russell 2000 Index futures

Bolstered by a stronger U.S. dollar, small cap stocks – particularly those that comprise the Russell 2000® index – have gained in the last month. A benchmark for U.S. small-cap stock performance, the Russell 2000 Index consists of the lower ~2,000 small-cap stocks in the Russell 3000 Index.
Market participants who wish to hedge or express a view on small caps can do so using E-mini Russell 2000® Index futures and options on futures available at CME Group and capitalize on:
Liquidity:

more than 139K average daily volume and 607K open interest

Capital Efficiency:

margin offsets of up to 80% vs. other equity index futures, including a 70% offset vs. E-mini Dow ($5) futures

Spreading Opportunities:

high correlation between the Russell 2000 and the Dow indices present opportunities for relative value spreads between corresponding futures contracts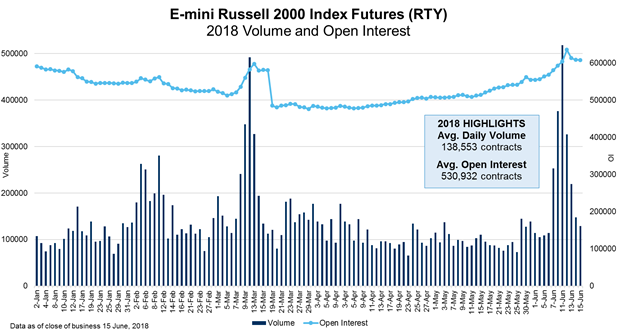 Learn more about Russell 2000 futures and options on futures available at CME Group at cmegroup.com/russell2000.
Data as of close of business 15 June 2018 and subject to change. Please visit cmegroup.com for the latest product and margin information.