Thai Market Outlook
By Phillip Securities (Thailand) Research Team
Did you know? The Thai Stock Market has been one of the best performing world index since the financial crisis.  This is the return of world indices since October 2007.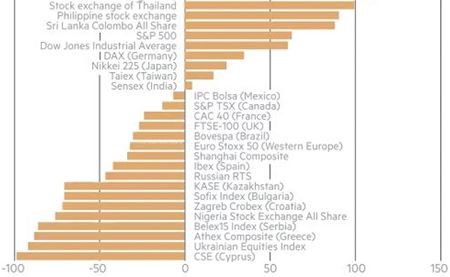 Thai stock market outlook for 2018
A catalyst for end of year stock market is the expected purchase of 30-40 billion baht of tax savings funds of LTF and RMF.
Thailand's economy is expected to keep growing at a satisfactory rate of 3.8%-4.0% in 2018. Government investment, notably the Eastern Economic Corridor Infrastructure project would be a major driver of the economy
The potential key drivers for the Thai stock market in 2018 include the following: (i) Thai stocks remain under-owned by foreign investors as foreign ownership of Thai stocks is less than 30% of total market capitalization, well below the seven-year trailing average of 32.5%, (ii) the general election, which is expected to take place in November 2018 should take some domestic political concerns off of foreign investors' mind, and (iii) corporate profit is expected to return to double digit growth in 2018.
For potential risk factors, rising political movements ahead of the 2018 general election could heat up domestic political temperature and may probably lead to a further delay to the election.
The topside target for the SET50 index in 2018 will be 1,150 points, equivalent to a forward P/E of 16x. Even though the above risk factor may bring volatility to the market, investors could still make profits on the SET50 index, which offers high leverage of up to 38x, in bull or bear markets.
 
SET50 futures have attracted huge interest from investors as reflected by a steady rise in trading volumes over the last decade. Trading volumes of SET50 futures jumped more than 20% on the year in 2016, and more than 21 million SET50 futures contracts were traded in the first 10 months of 2017, accounting for one-third of trading volumes of 63 million TFEX contracts
RISK DISCLAIMER: Trading in futures products entails significant risks of loss which must be understood prior to trading and may not be appropriate for all investors. Past performance of actual trades or strategies cited herein is not necessarily indicative of future performance. The information contained herein is provided to you for information only and believed to be drawn from reliable sources but cannot be guaranteed; Phillip Capital Inc. assumes no responsibility for errors or omissions. The views and opinions expressed in this letter are those of the author and do not reflect the views of Phillip Capital Inc. or its staff.