ASX - Equity Derivatives Updates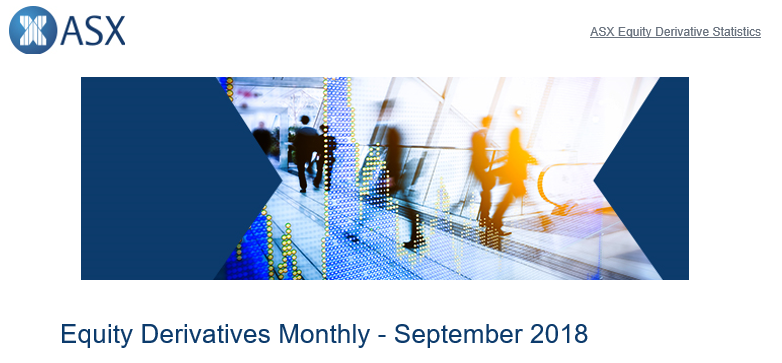 Strong SPI volumes led equity derivative markets in September increasing by 15% compared with last year.
We had a record day with 666,674 SPI contracts traded on Tuesday the 18th thanks to large roll activity.
Single stock and Index option volumes were subdued compared with last year, however further trades in ASX Equity FlexClear and improved weekly option volumes provided some positive notes.
In general market news, VIX looked to be on the rise early in the month thanks to weaker equity markets but as market conditions improved VIX retreated back to its recent levels and finished the month a touch over 10.5.
The resource sector was the ASX 200 standout performer in September, helped by the strength in iron ore and oil prices. All other sector/market themes eased back, with financials again suffering a notable loss.
Save the date:
Volatility and Equity Derivatives breakfast
An invitation will be sent to you this month for a market breakfast in November.
Melbourne:
Wednesday 21st November

Location: S&P offices Melbourne
Sydney:
Thursday 22nd November

Location: ASX offices Sydney
Hope to see you at one of the breakfasts next month.
Kind regards,
Graham O'Brien
Senior Manager, Equity Derivatives
M:+61 438 649 911
E: graham.obrien@asx.com.au
Dawn Lay
Index & Equity Futures Sales Manager, Derivatives &OTC Markets
P:+612 9227 0115
E: dawn.lay@asx.com.au
Visit:
ASX Equity Derivative Statistics
ASX Operations Pty Ltd. 20 Bridge Street, Sydney, NSW, 2000, Australia
© Copyright 2018 ASX Limited ABN 98 008 624 691. All rights reserved 2018.