The Chartist View: Bitcoin Rallies Ahead of Futures Launch
By:  Jeff Gilfillan
Bitcoin futures launches Sunday night, December 10th through the CBOE Futures Exchange, LLC (CFE). The CME Group (Dec 17th) and Nasdaq (2018) will be offering Bitcoin futures soon. It's safe to say everyone wants a piece of something few traders truly understand.
The charts are telling us this contract really came alive this Summer when prices went from just under $3000 to just over $1800 in a month, recovered and never looked back. $3000 was the base in September and $5500 became the base in early November. The 50% level from the $3000 base through today is about $7900 which is also the supportive base currently. This level ($7900) should be the supportive level on any corrections if there is real demand below. However, the real "washout" area is between $4900-$5500. To the upside, I believe current levels may hold into the weekend but the upside potential beyond $13,000 could be significant. A mirror move of the recent range would target $23,000.
Keep in mind, a typical strong washout breaks a significant low and shakes out the longer term traders which in my view is in the $4900-$5500 range. In the case of the new bitcoin futures, the previous lack of shorting abilities in the cash contract tells us there will be an oversized long that may fuel much more of a squeeze when a key reversal lower takes place.
JG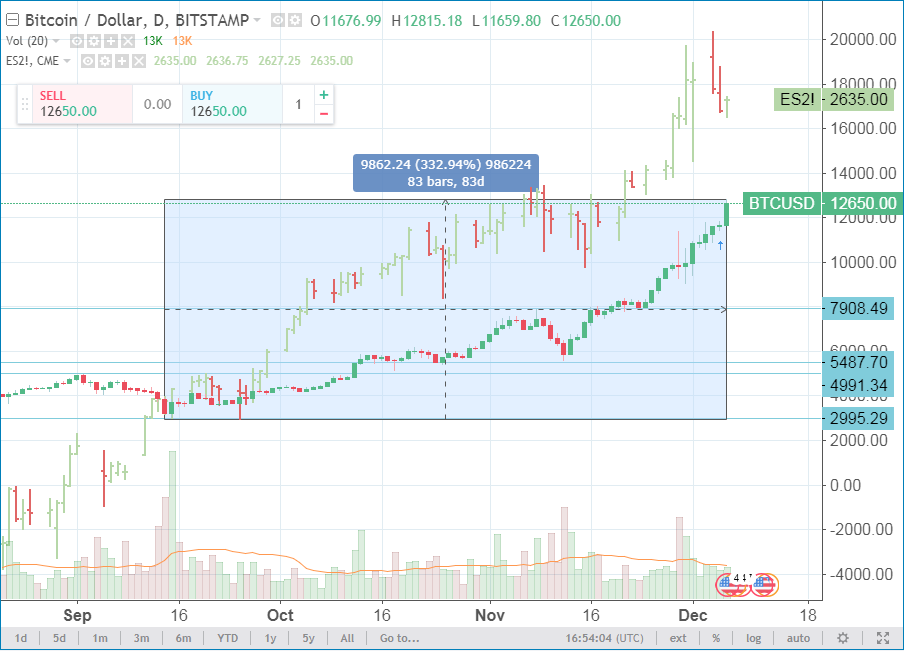 RISK DISCLAIMER: Trading in futures products entails significant risks of loss which must be understood prior to trading and may not be appropriate for all investors. Past performance of actual trades or strategies cited herein is not necessarily indicative of future performance. The information contained herein is provided to you for information only and believed to be drawn from reliable sources but cannot be guaranteed; Phillip Capital Inc. assumes no responsibility for errors or omissions. The views and opinions expressed in this letter are those of the author and do not necessarily reflect the views of Phillip Capital Inc. or its staff.